Outstanding achievements, effort, potential and community work were rewarded at the annual student awards ceremony at Lowestoft Sixth Form College.
The celebration of achievement took place in the college's Atrium where over 200 students, former students and their families, staff and supporters gathered to hear testimonials of hard work and excellence of the year that achieved our 100% A Level pass rate!
The guest speaker was Emma Jeffs, a former student who is in her first year at Masters Performing Arts in London, studying Dance. She achieved a fantastic double distinction star in Performing Arts this year with us. Emma reflected on her time as a sixth form student, she's a very talented performer with a fantastic career ahead of her.
This year our awards were presented by Yolanda Botham, Principal & David Gartland, Vice Principal and the teachers of each subject. As well as our amazing sponsors ATKINS, Ferini Media and Art Gallery, Karpet Kingdom, Lovewell Blake, Suffolk Chamber of Commerce and the Deputy Mayor of Lowestoft Cllr Peter Knight.
Guests were treated to live music throughout the evening by L6FC current students Emily, Eryn and Emma and former student Lily Ayers as well as delicious refreshments including a chocolate fountain and nacho machine provided by Sweeties, as well as chance to visit the fun photo booth. Many current students lent their support to the evening; musicians, photographers and ambassadors. Thank you to Hi-Tech for their balloons, following the event the balloons were donated to Warren School, where pupils enjoyed them as part of the Christmas party.
Award for English- Presented by Kerry Logan, English Teacher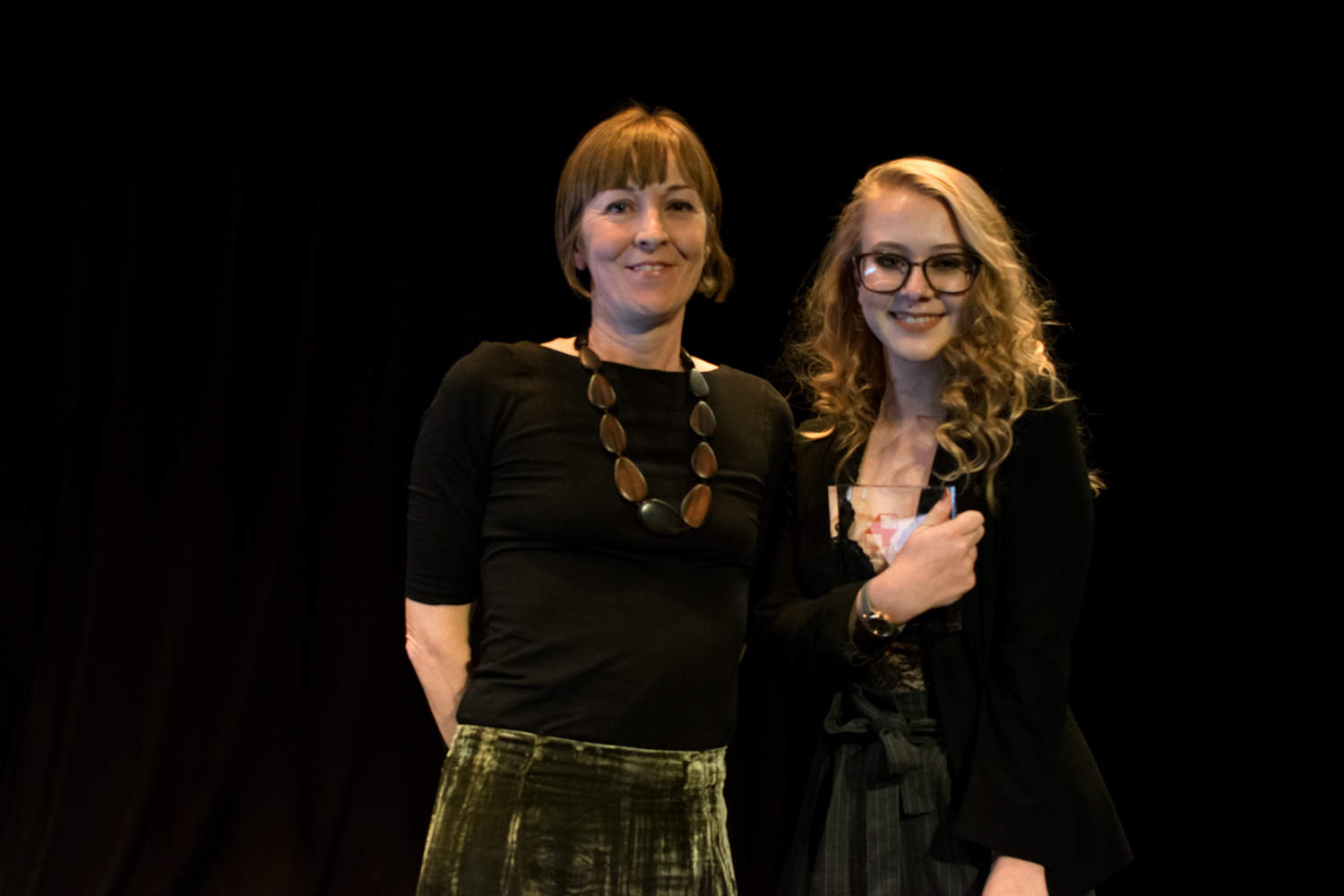 Winner: Chloe Burden– Chloe displayed the qualities that we, as teachers, know will see them through; maturity, exceptionally well-organised, willing to tackle challenging material and willing to have a go again if she didn't succeed first time. Chloe approached each lesson with enthusiasm, dedication and empathy for all the texts and characters we studied over the two years.
Award for Mathematics – Sponsored by Lovewell Blake, presented by Gary Flatt at Lovewell Blake and one of our Governors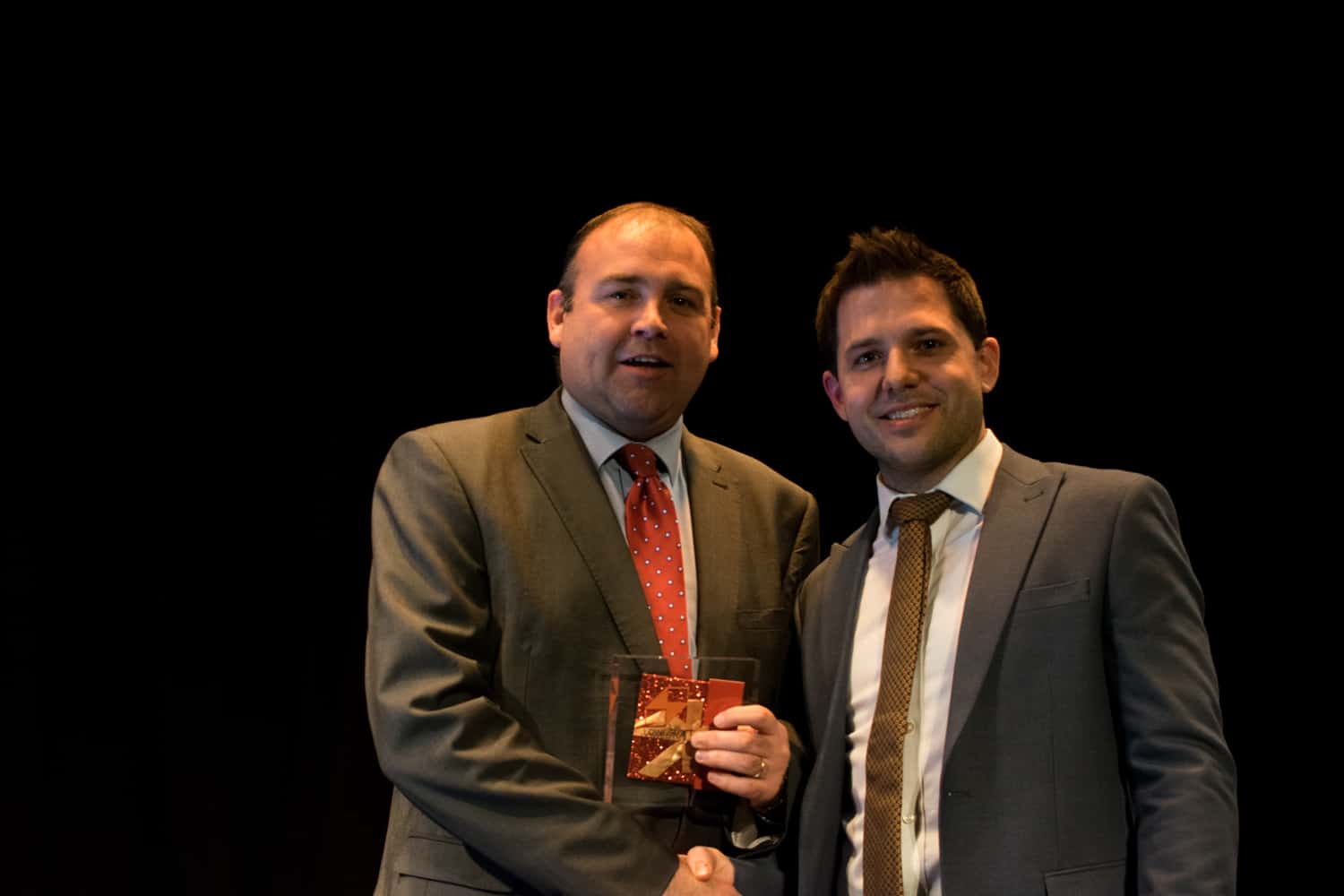 Winner: Joel Pointon– Joel demonstrated massive amounts of drive and determination and hasn't let anything stop him. IT was never enough just being able to do the question, Joel always wanted to know why. This led to many debates in lessons, sometimes quite heated, but I really valued this level of interest and passion shining through.
Joel's competitive edge pushed his peers to up their game too.. and one of Joel's most impressive attributes was his desire to help others improve and he was always willing to offer support.
Award for Science – Presented by Tom Harrison, Physics and Maths teacher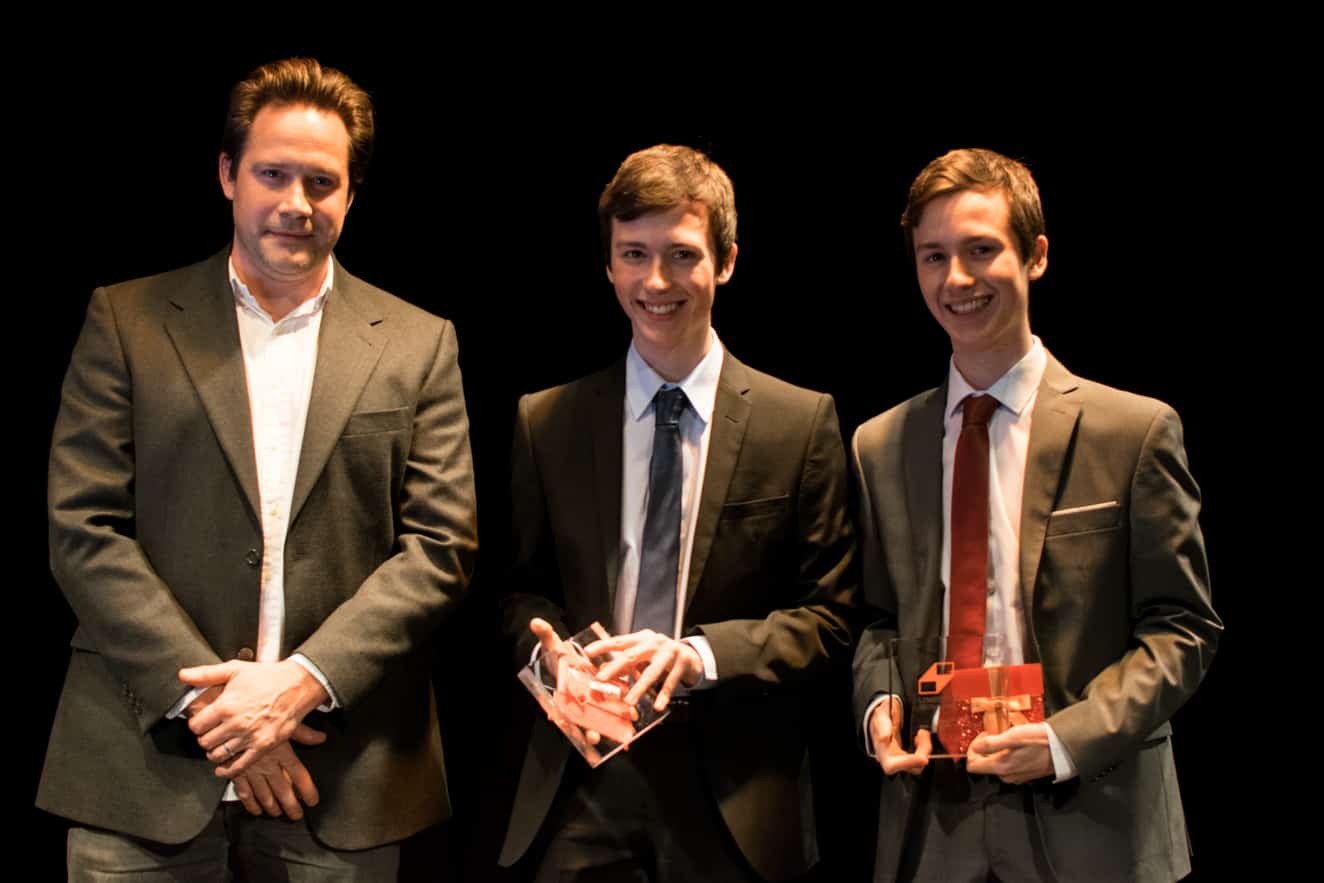 Winner: Harry and Jack Adams– Jack and Harry not only excelled in the final exams, but they often pushed themselves way beyond the scope of the course syllabus – determined to probe further into particular fields in order to satisfy their curiosity and further deepen their understanding. At the end of the summer term a team of four students, Harry and Jack Alex Crowley and Charlie Hobbs, travelled to the Scottish island of Arran to undertake the expedition section of their DofE gold award. The weather was mixed, the terrain tough.. And there were midges.
At the end of the trip, the assessor was hugely impressed by the teamwork shown by the group, their thorough preparation and their resourcefulness and good humour in adverse conditions. He praised them in his report as "without doubt the best expedition" he had assessed that year. Jack and Harry will collect their DOF E GOLD AWARDS on the 17th January at St James's Palace!
Award for Creative Media & Performing Arts- ATKINS , presented by Richard Christmas at Atkins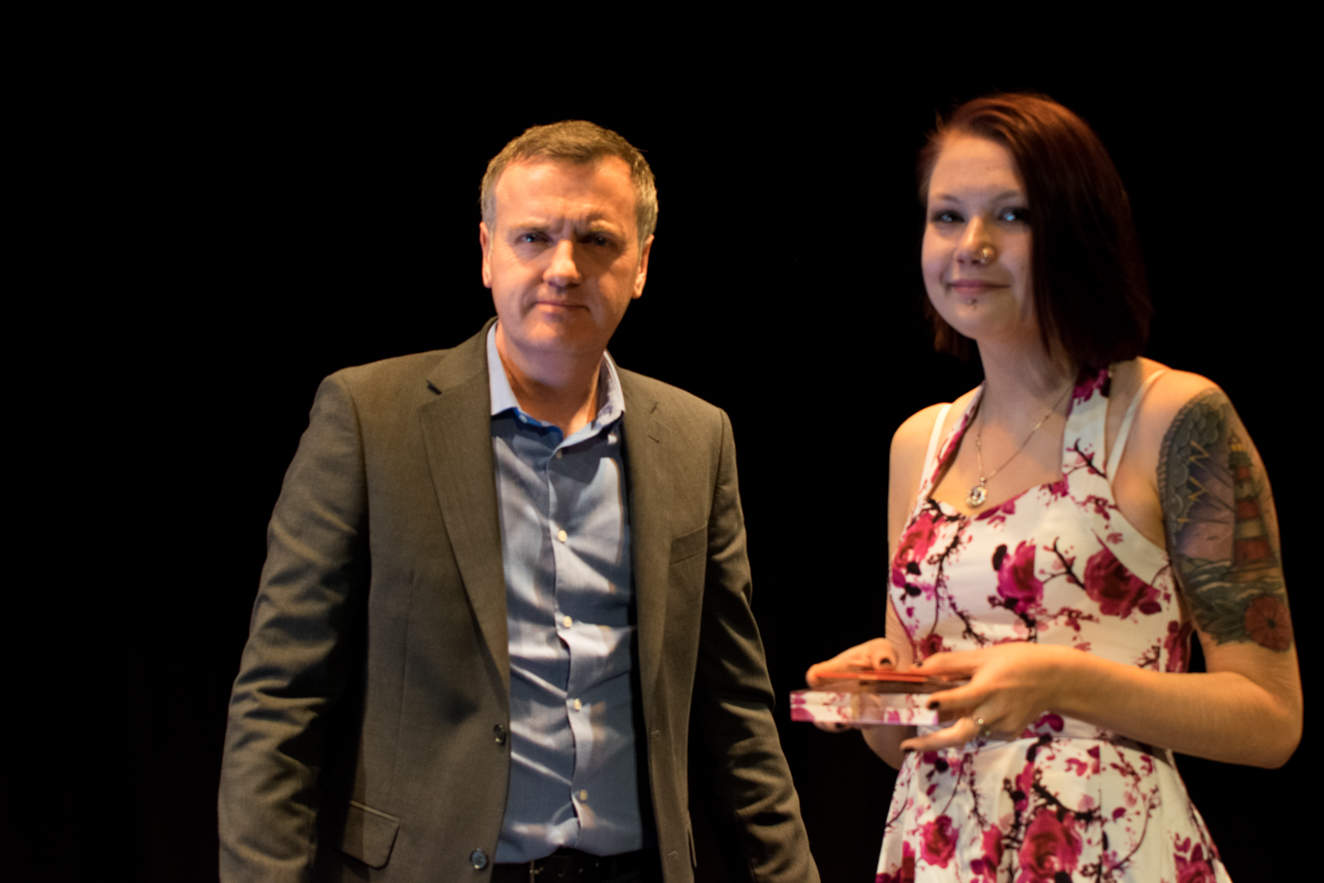 Winner: Danielle Willgress– Dani was an exceptional, dedicated and passionate student. Dani's passion for music was such that she seemingly couldn't bear to study any other subject, so after her first year she pleaded with us to allow her to become the first student at college to study a full programme of Extended Diploma in Music Technology. Despite the fact this would require Dani to study six units independently, we relented and Dani repaid our trust by achieving a sensational Distinction*-Distinction*-Distinction grade. Dani hopes to combine her passions of music and photography as a music journalist. If she maintains the same exceptional standards and openness to new opportunities, I'm sure she'll have no problems in fulfilling her ambitions in the years to come.
Award for Visual Arts – Ferini Media, presented by Mrs and Mr Hobbs at Ferini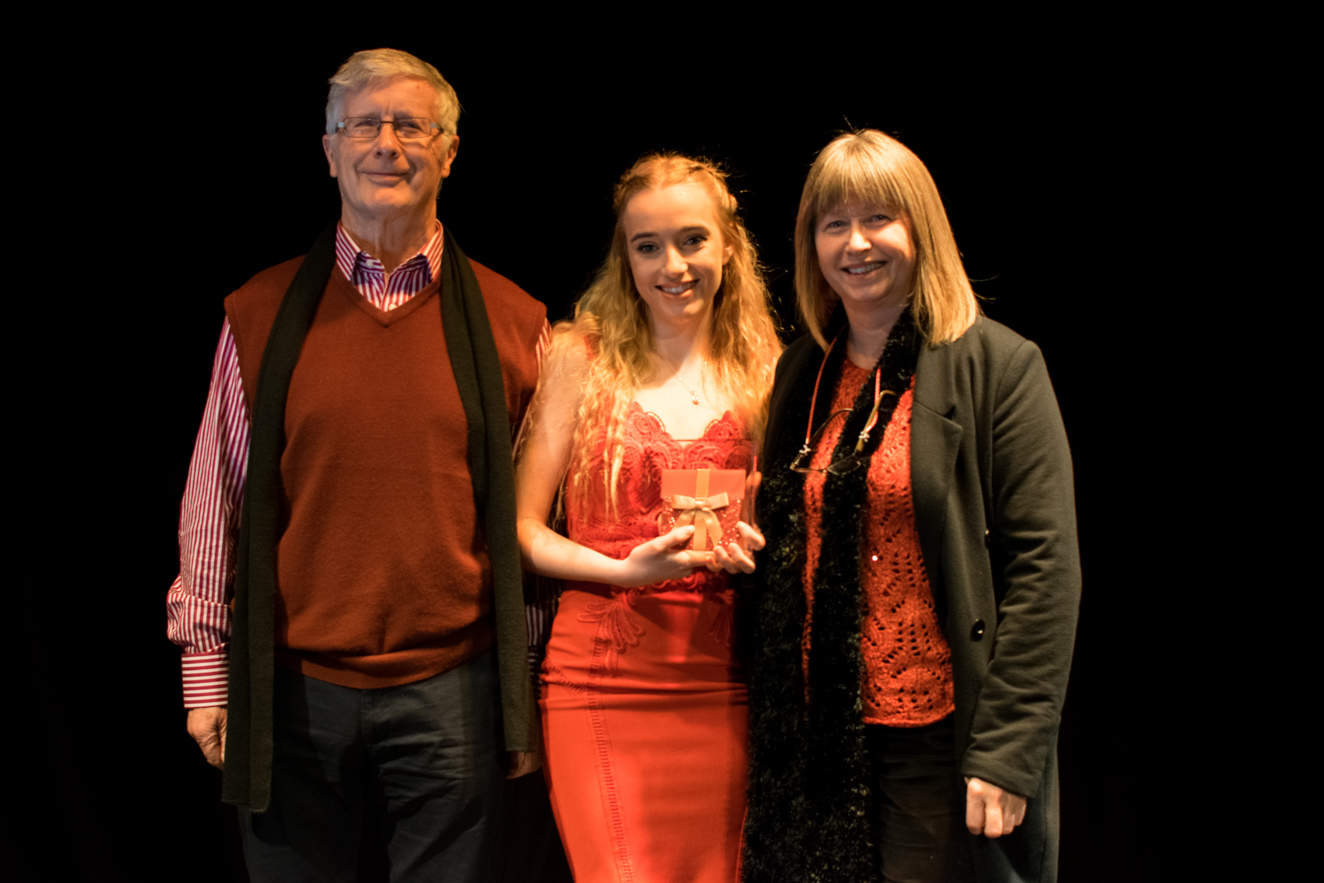 Winner: Kay Bonning-Schmitt– Kay is all of the following: tenacious, hardworking, caring, supportive of others, and a capable artist. Kay is persistent and meticulous, always striving to better herself, and to improve her Art through painstaking reworking. Kay always offered her steadfast support for open evenings, and was an articulate ambassador for why a student should include a creative subject as part of their post 16 study.
The main reason I chose Kay for this award is because of her general positive demeanour, always offering her peers encouragement, support and advice. Kay you have been a fantastic student over the past two years. Well done on all you have achieved so far, and I sincerely wish you all the best for your future plans.
Award for Social Science – Presented by Mark Osbourne, Sociology teacher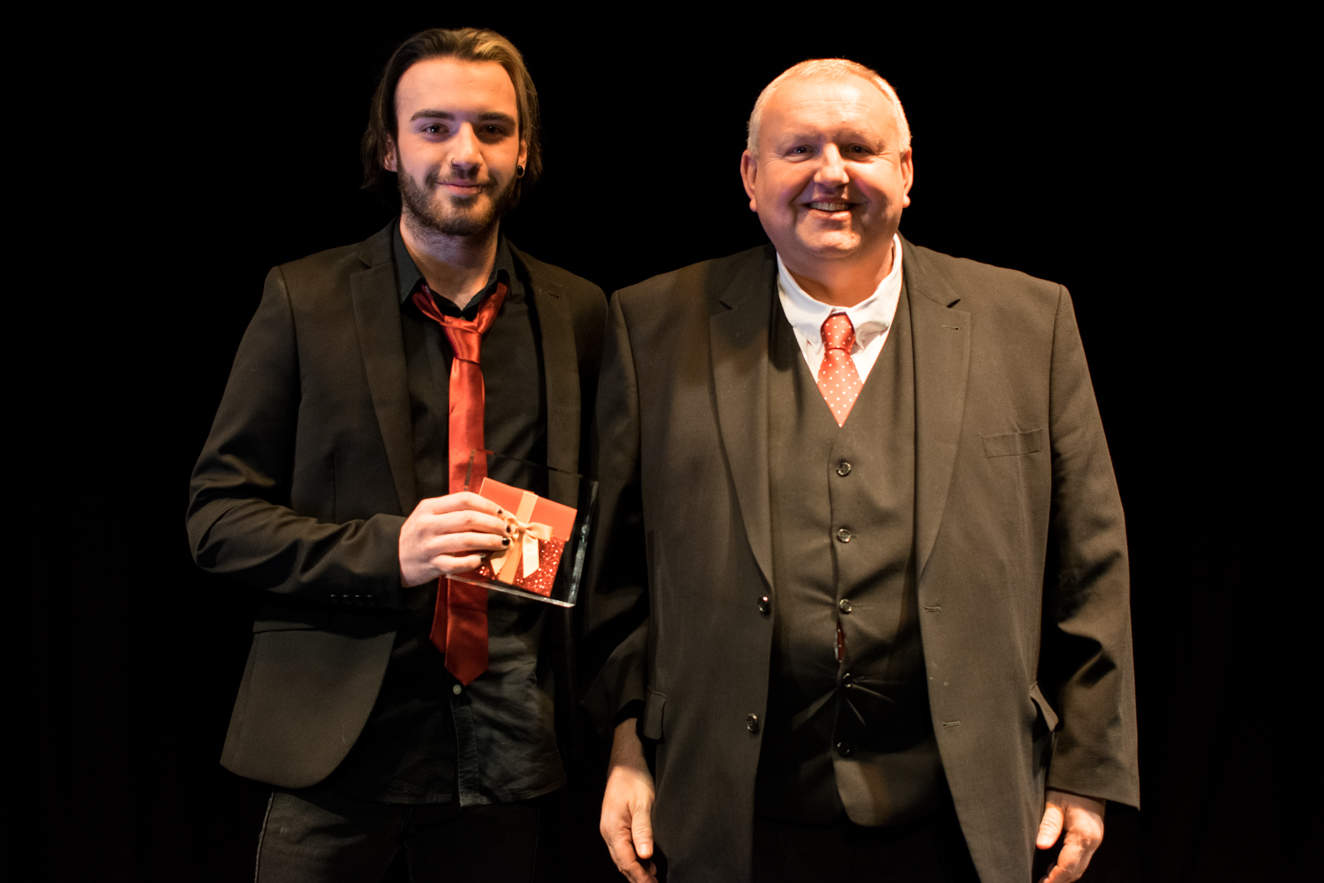 Winner: Tom Waterhouse– Study at Sixth Form was by no means an easy ride for Tom; he had to contend with a number of personal difficulties and challenges on route that would have felled others, but not Tom, he dealt with them admirably. Tom didn't give up, he re-focused and re-sat and made the grade to progress, convincing senior colleagues to give him a chance. It is important to note that Tom was combining his A level Sociology with BTEC courses in both Music Technology and Performing Arts – this required some really skilful time management of all the coursework demands. Impressively, Tom achieved two very well deserved distinctions! Tom you deserve this award for your sheer determination and drive to achieve in Sociology.
Award for Sport – Presented by Matt Page, Sports Teacher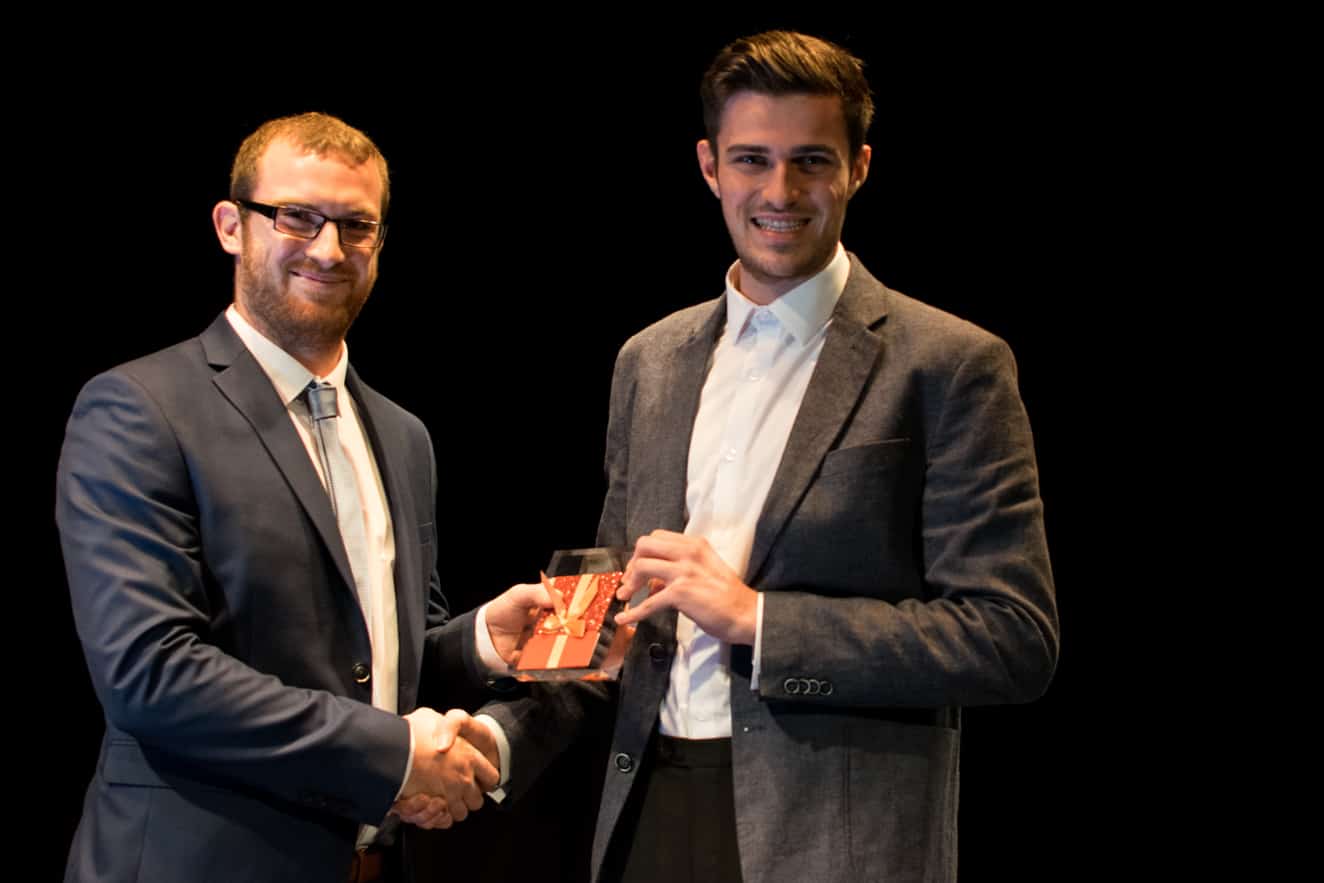 Winner: Tom Davies– What I liked most about Tom is that he engaged with college so well. He knew when to get on with his work and when to discuss. He wasn't afraid to ask questions or say if he needed help. He played for the football team, played for the rugby team, volunteered for a large number of coaching and officiating roles, attended trips and took part in water sports activities.
He had a clear vision to become a PE teacher and worked hard at college to ensure he would be successful.
Award for Technology – Presented by Keith Shiels, Director of Faculty and IT Teacher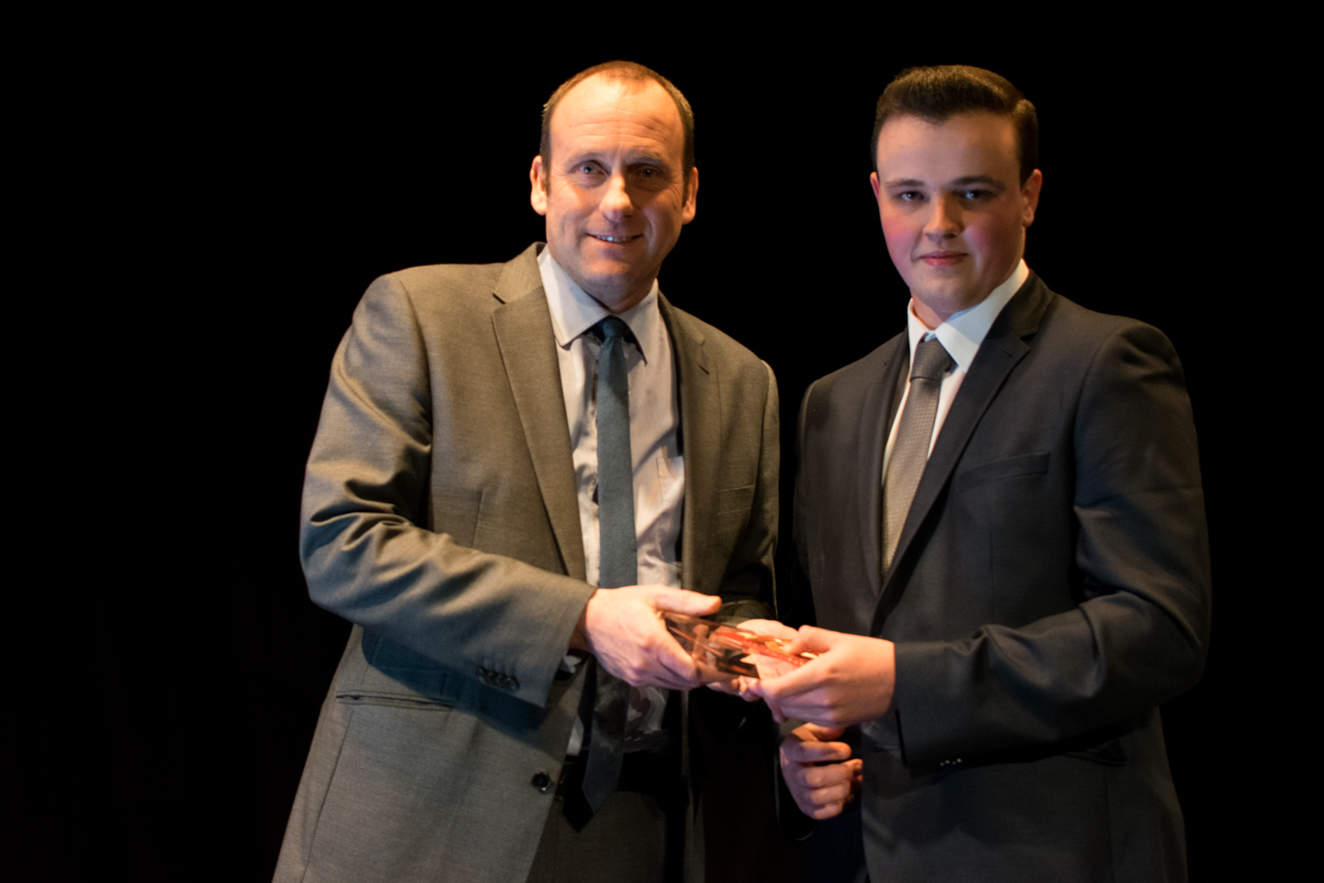 Winner: Ben Haylett– Ben was, quite simply, the standout student of the IT cohort.
He threw himself whole-heartedly into college life, supporting the IT teaching team by getting involved in Open Days and Taster Days and even giving up his time to teach Photoshop to Year 6 students from a local primary school. He was also always happy to support his fellow students, talking through concepts to help them understand the intricacies of IT. After leaving college Ben has decided to start his own business, Platinum Digital, to focus on gaining experience in the design industry and to work on projects that will help him develop a variety of new skills. An early commission was our own WONDERFUL NEW WEBSITE.
Award for Business, Humanities & Modern Foreign Languages – Sponsored by the Suffolk Chamber of Commerce, presented by Jules Shorrock and Michelle Gardner from the Chamber of Commerce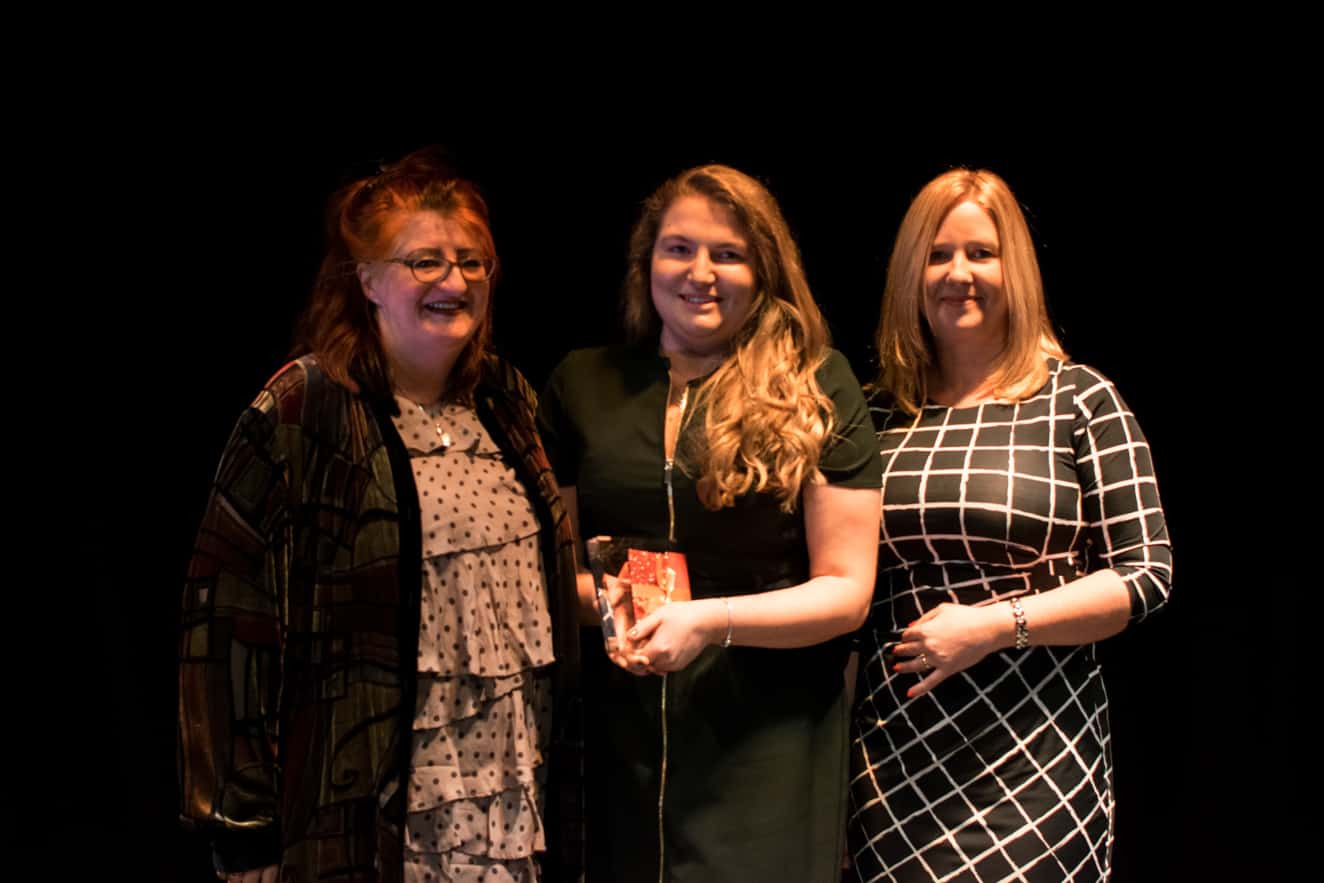 Winner: Charlotte Le Grice– I have nominated Charlotte because of her remarkable success and achievement in Law in which she gained an A* plus A's in History and Politics which has enabled Charlotte to gain a place at UEA to read Law combined with American Law. Charlotte is the first student from the College to be able to take a place on this highly prestigious course. Her analysis of legal scenarios was forensic always citing the appropriate legal authorities and her conclusions always proved her case beyond reasonable doubt. I am sure that Charlotte will make the most of the opportunity she has so rightly earned and I wish her every success in the future with what I am sure will be a glittering career.
Progress Award- Sponsored by Waveney Norse, Presented by our Chair of Governors David Bye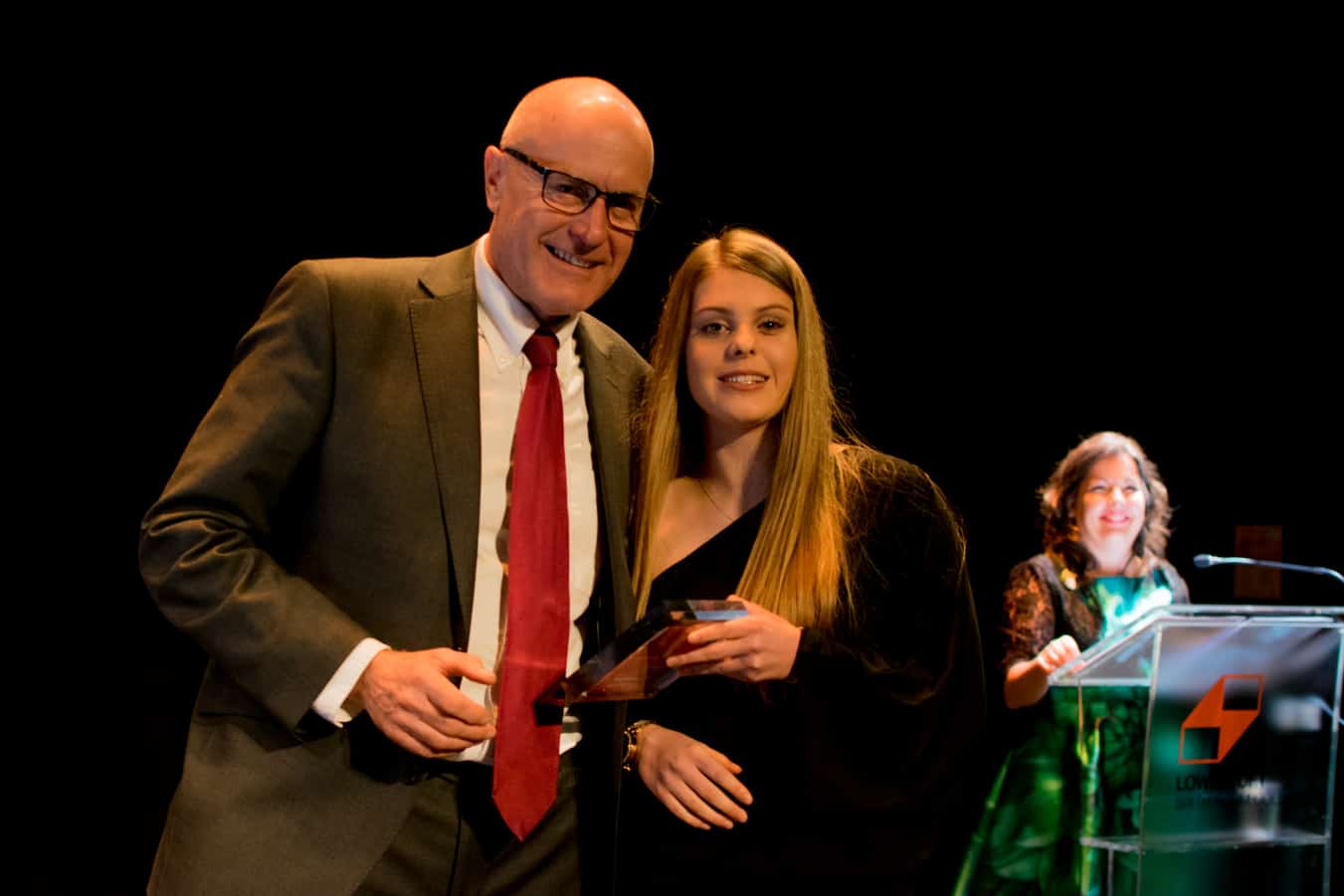 Winner: Brooke Osborne– What can we say about Brooke? Well, Brooke and the English department shared a long, bumpy (sometimes explosive!) ride together. You see, Brooke's previous experience of English had given her an almost phobic response to it. And to us! However, with a lot of coaxing, particularly from Debbie Fox, who saw her through the last two years of GCSE English, plus the odd bit of bribery, we saw a change in Brooke. Her potential had always been apparent to us, but now she was starting to see it too. . I can only imagine what it must have been like for Brooke opening that results envelope – the butterflies and then the slow realization that the number she was seeing in front of her was a 6. A high B! She was delighted. We were delighted. Her mum was delighted.
Well done, Brooke, for proving to us just how much potential you truly have.
Community Award- Presented by Cllr Peter Knight- Deputy Mayor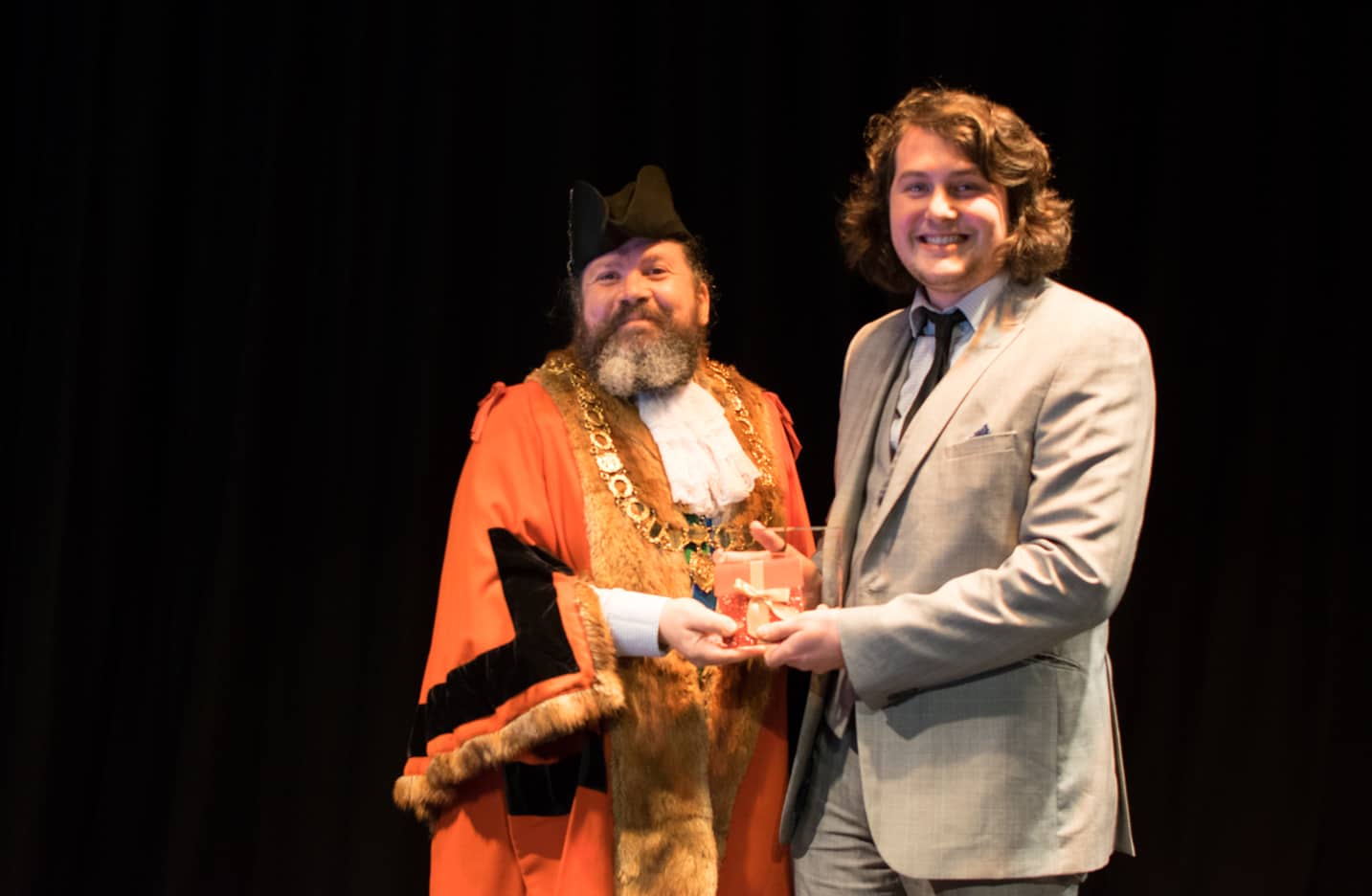 Winner: Adam Barnard-Adam is a real positive force of nature and carries with him an open, upbeat and light-heated personality that is irrepressible. You never know what's coming next – humour, pearls of wisdom or witty rebuke. Adam's jovial nature and the ease with which he articulated difficult subjects with simplicity to others is what endeared him to his fellow forensic scientists. However, the reason for Adam's nomination is not simply his excellent work but his commitment and kindness in supporting his peers. His compassion shone through for all those who needed it.
Award for Professionalism – Sponsored & Presented by Jon Harrod, Karpet Kingdom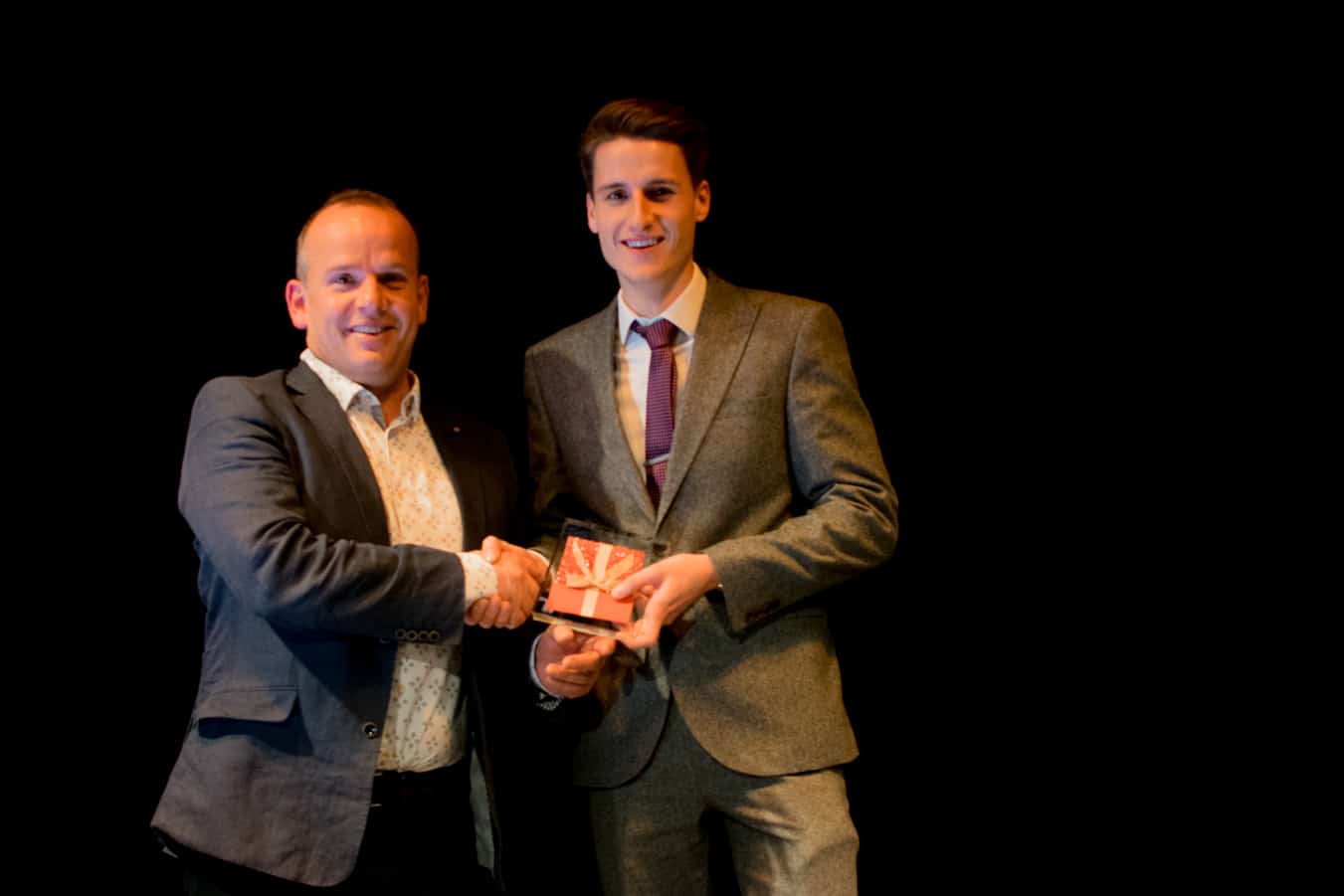 Winner: Katie Landles– Katie would always seek out extra feedback and listen carefully, keen to improve her grades. When Katie received disappointing news, she did not fold but used her disappointment as the rocket fuel to power her to achieve the stunning grades she did. A* A A Katie has now re- applied for Medicine. Katie is one of the kindest and most caring students that I have ever come across. She will go above and beyond for anyone and I can not praise her enough. She really is amazing.
Endeavour Award – Presented by David Gartland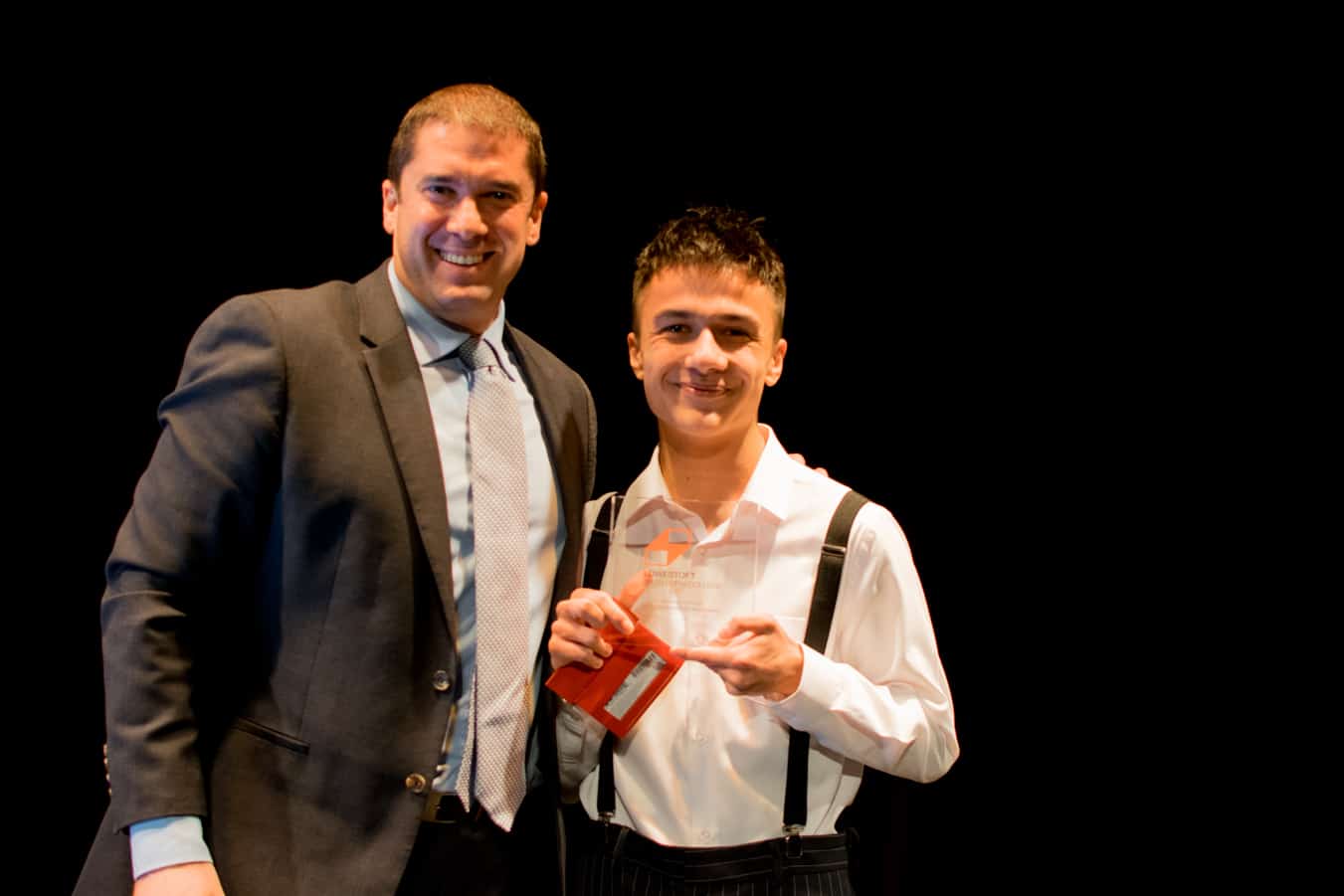 Winner: Chris Williamson– Chris first came to my attention in BTEC Fast Track, he left school with only 1 GCSE. He really stood out for me in the Christmas quiz. He was the only pupil I ever knew who could recognise Pope John Paul the second disguised in a Santa hat and beard. I was intrigued by his extensive general knowledge and it became very apparent to me that here was a gifted student who hadn't done well at school but not through any lack of talent.
At the end of that first successful year, Chris then progressed to the L3 IT. Whilst ultimately Chris excelled, there were times over the next two years when he rang a few alarm bells, living independently now, Chris found it difficult to maintain 100% attendance and good punctuality. But we didn't give up on Chris and Chris didn't give up on his goals and so with typical good humour, Chris listened, took the advice, applied it and achieved a very impressive 3 distinction grades. Chris understands first-hand what good college support plus student ambition can achieve – and his degree choice is so he can support the next generation of Lowestoft students achieve their dreams too. We are proud of you Chris!
Principal's Award- Presented by Yolanda Botham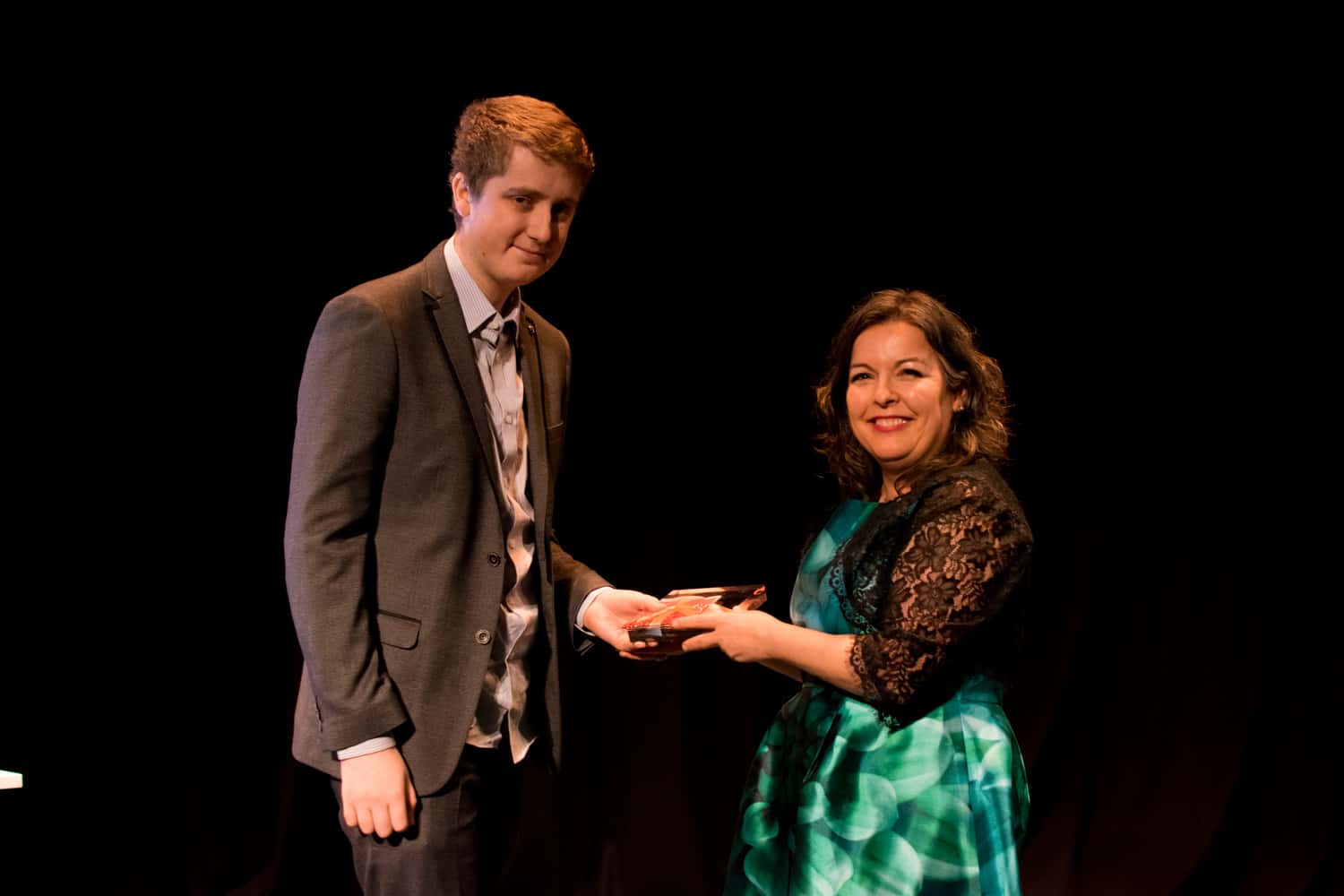 Winner: Rhys Furlow– Rhys was an excellent ambassador for Lowestoft sixth Form College. Rhys completed a highly successful engineering internship this summer as part of the Royal Academy of Engineering programme. To those that don't really know him, Rhys is a man of few words. However, appearances can be deceiving, for beneath the surface, lies not only an extremely talented physicist and mathematician, but also a charismatic young man, with a very dry sense of humour. Despite his high natural abilities, Rhys worked extremely hard throughout his two years at L6FC and his final achievement of A* grades in both physics and mathematics (and indeed making it a hat trick with Biology too) is an achievement of galactic proportions!
*The College is holding an Open Evening on Wednesday 7th March from 6pm to 8.30pm