Lowestoft Sixth Form College is delighted to announce another set of outstanding results, with 85% of A Level students achieving A*- C grades.
Despite the disruption to learning this year, some students had a taste of normality as they travelled into college to tear open their envelopes after two years of dedication and hard work, while others received their results via email at home.
For the second year running the college achieved a fantastic 99.7% A Level pass rate, and this year 54% of students achieved A* to B grades.
Lowestoft Sixth Form, which is part of East Coast College, has always celebrated success in its STEM subjects and this year was no different with 100% of students achieving A* to B grades in physics and 77% achieving A* to B grades in maths.
Keith Shiels, Principal of Lowestoft Sixth Form College, said: "I am immensely proud of all of our students and staff for the hard work they put in both before and during lockdown, and we are pleased to be able to share their success through our results today. Our students have had to embrace a new way of learning almost overnight and they can take those successes forward to their next steps, as well as their fantastic academic achievements. The lessons we have learnt from this new way of teaching and learning, both for students and teachers, will undoubtedly enrich and transform the way students learn from now on."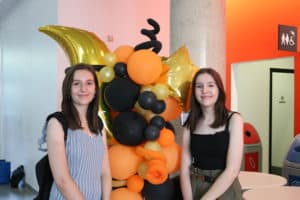 Abbie Smyth achieved a fantastic three A grades in Psychology, English Literature and English Language, with her twin sister Emily studying the same courses and achieving an A* in Psychology and an A in both English Language and English Literature. Both have secured a place at Cambridge University to study English Literature this September. Abbie said: "I'm ecstatic and it's such a relief as I thought I hadn't got a place at university but I have!"
Emily added: "I'm really happy and relieved. I felt really stressed before today."
East Coast College Chief Executive Stuart Rimmer said: "We are hugely proud of the results our students and the college have delivered in these times of the Covid crisis and are delighted with another strong leading set of A Level results in our Lowestoft Sixth Form College. This year over 2,500 young people chose to study at East Coast College in BTECs, A Levels, apprenticeships and vocational qualifications. They have shown a resilience and determination to succeed despite the disruptions in the year. We are very proud of them and our amazing staff that teach them. We are already looking forward to seeing our returning and new students this September."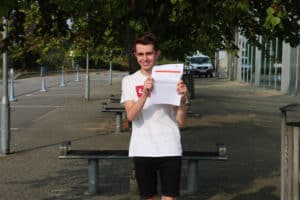 Oliver Smith achieved an outstanding two A*s in both Biology and Maths, as well as two As in Further Maths and Chemistry. He has secured a place at the University of York to study Bio Chemistry.
He said: "I'm really happy and so proud of myself. I wasn't feeling too nervous, because the situation was out of my hands."
East Coast College and Lowestoft Sixth Form College will support all of its students in their next steps of education or work, as well as those who will be joining the college this September. For guidance and support, please email heretohelp@eastcoast.ac.uk or call East Coast College on 0800 854 695 or call Lowestoft Sixth Form College on 01502 537000.