We are thrilled to share the news that East Coast College has received an Ofsted 'Good' rating during our recent inspection, making Lowestoft Sixth Form College now part of the largest Ofsted 'Good' college in Great Yarmouth and Waveney
This is yet another fantastic achievement for Lowestoft Sixth Form College. Not only do we continue to perform outstandingly with an astonishing 99.7% A Level pass rate, we boast fantastic results in STEM subjects, with 83% A* to B grades in A Level Physics and 77% A* to B grades in A Level Mathematics. In addition, we are in the top 25% of colleges nationally for student progression, and continue to be the top performing sixth form college in the East of England.
On a wider scale, our Ofsted 'Good' grade means that we buck the national trend, as other FE colleges around the UK have struggled to perform well following a merger. The governing body has set a high benchmark for academic excellence in the East of England.
Peter Aldous, MP for Waveney, was quick to celebrate our accolade: "This is great news and I congratulate everyone at East Coast College for this tremendous achievement. A progressive and successful further education and sixth form college is vital to the future of Lowestoft and Waveney, so as to give our young people every opportunity to realise their full potential and to fully contribute to the area's economic regeneration. I look forward to continuing to work with the college to build on this success."
Under the guidance of CEO Stuart Rimmer, East Coast College has truly flourished, proving to be the number one choice for further education in the East of England. The Ofsted report commended us on our focus on establishing good relationships between students and teachers.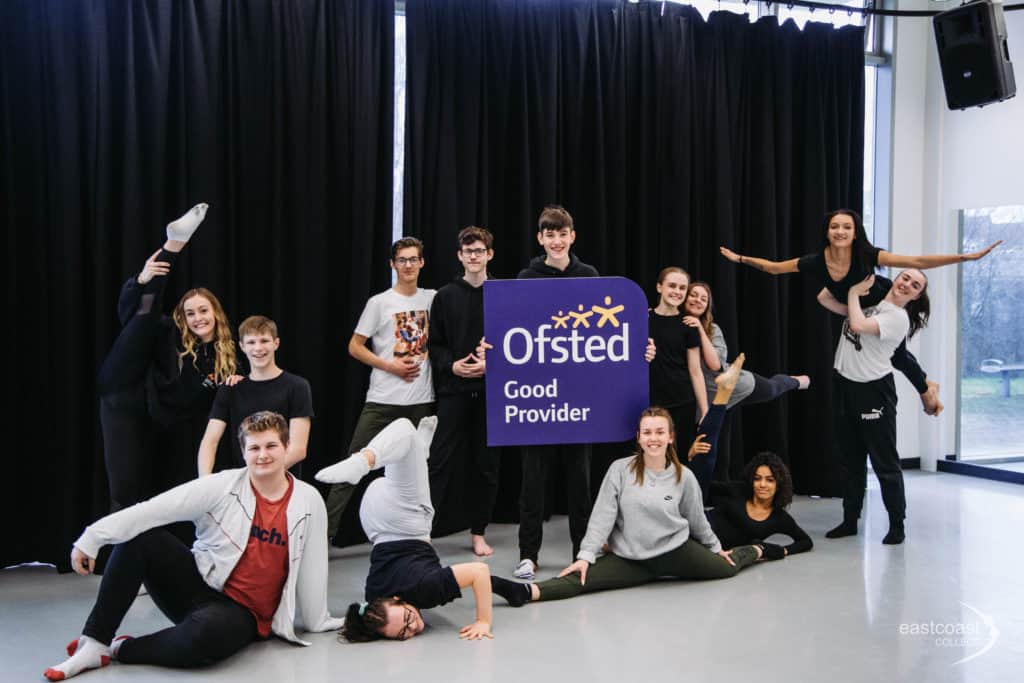 "This result is all about 'teamship'. Our staff team is the most committed and student-focused of any college I've ever worked in. When students join our college they join 'Team ECC', whichever part of the college they belong to. We have the highest performing sixth form in the region, the largest STEM provision, the most inclusive and supportive choice, strongest employer links, university higher education and degrees taught in our towns, and really great teaching.

"We love supporting education and skills in our communities in Great Yarmouth and Waveney. We have some amazing plans to reveal over the coming months. There is no better choice for students in our region."
Our staff have been praised as respectful and caring, helping to develop students into well-rounded individuals, not just academic achievers. Our students appreciate how their teachers truly listen to them and go out of their way to help.
Staff have set an atmosphere that is calm and orderly, geared towards learning. As a result, the Ofsted inspection found our students to be highly motivated, placing great value in their learning.
Keith Shiels, Principal of Lowestoft Sixth Form College, echoed this sentiment "We are all incredibly proud of the outcome of our recent Ofsted inspection. The result is testament to the hard work, commitment and talent of all our staff and students. It is a team effort that ensures we continue to achieve some of the best results in the country and secure ambitious destinations for our students."
The Ofsted report also commended us on creating an environment where students feel safe and receive great personal help and advice when required. Student wellbeing is a top priority for our college, as stress can be felt from exam pressure or while students are developing. Our highly trained team of wellbeing staff work closely with partners and external agencies to provide the best possible care.
Mike Burrows, Chair of Governors, praised the hard work and commitment from all of our staff, "We are delighted that Ofsted have rated East Coast College as 'Good'. The commitment and teamwork of our staff is outstanding and their hard work and skill has made a real difference to the quality of learning and the experience provided for learners. It provides a tremendous boost for our staff, learners and the whole community."